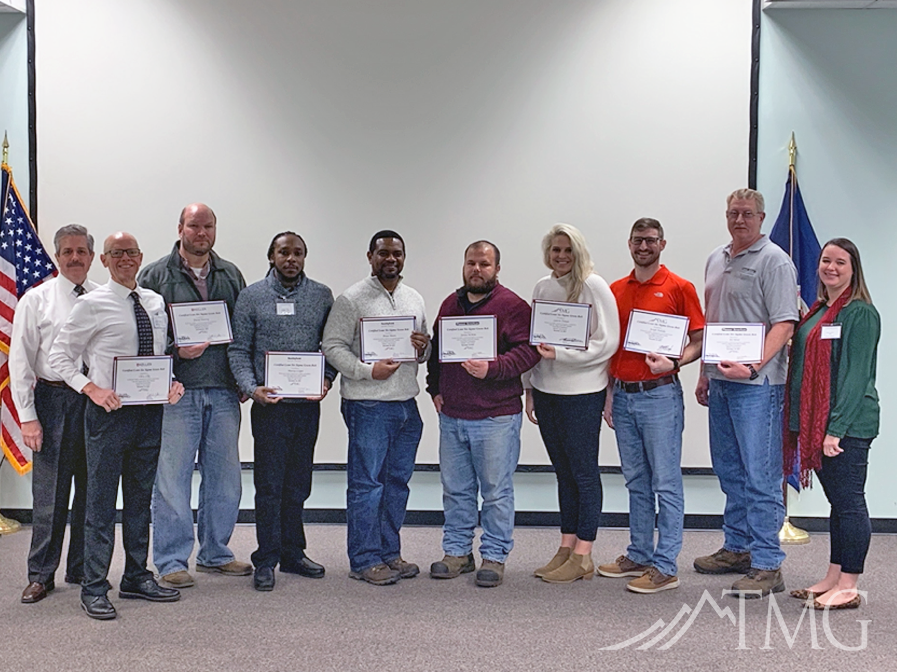 SPOTSYLVANIA, VA – FEBRUARY 21, 2020 –  On Friday, December 20th, the first class of the 757 Green Belts graduated from the "757 Lean Six Sigma Green Belt Training Program." Nine Trainees from four local companies in the Tidewater Region of Virginia ("757") area participated in this training, including Plasser American (Chesapeake, VA), Keller America (Newport News, VA), Smithfield Foods (Smithfield, VA) and TMG Inc. These companies invested in their people with confidence that the return on investment would far outweigh the cost of training. Their confidence paid off with over $2 Million in projected cost savings!
Total Projected Impact in Dollars $2,002,411
This training program is unlike any other in the nation, providing much more than just three days of monthly classroom instruction. Attendees are trained in the DMAIC Problem Solving Tool Set over six months (1 week/mo) while continuously applying that training to execute a legitimate Green Belt project with legitimate cost savings. This program was heavily enriched by the involvement of different industries and operations. Each training phase included a complete plant tour for all trainees and their leaders, which provided the opportunity to see Lean and Six Sigma being implemented in a variety of industries and operations. TMG's 757 Green Belt class offers an unprecedented opportunity to combine Green Belt Training, Leader Development, Project Execution, and the Cross-Pollination of Industry Best Practices.
Thank you to our two additional host sites, Arconic Engines (Hampton, VA) and Sumitomo Drive Technologies (Chesapeake, VA). These companies provided space for the training days as well as a plant tour with best practice discussions. 
Special thanks to Sumitomo, who also hosted a half-day Team Performance Improvement Workshop. During this event, Joe Barto (President and Founder of TMG, Inc.) facilitated the trainees and their leaders through the journey to becoming a High-Performance Organization. At the end of the workshop, all trainees and company leaders took the pledge– "I am a Lean Leader; My Team Plays to Win!"
TMG is pleased to announce that the success of the first class has led to a FULL CLASS for the H1-2020 757 Green Belt Class (Jan-June). We will now be including two companies from out of state who will be traveling to the area for one week a month, so if your company is not located in Southeastern Virginia, then do not count yourselves out for the next class!
If your company is interested in the next 757 Lean Six Sigma Green Belt Training in July of 2020, please contact Danny Barto at 757-272-6955.
Congratulations to: Ed Hotel, Justin McKim, Steven Harris, Brian Moore, Marcus Cooper, Chris Lilly, David Murray, Joe Pedulla, and Lauren Temple! All nine candidates completed a six-month-long lean six sigma training, a DMAIC class project, and ALL passed their Green Belt examination.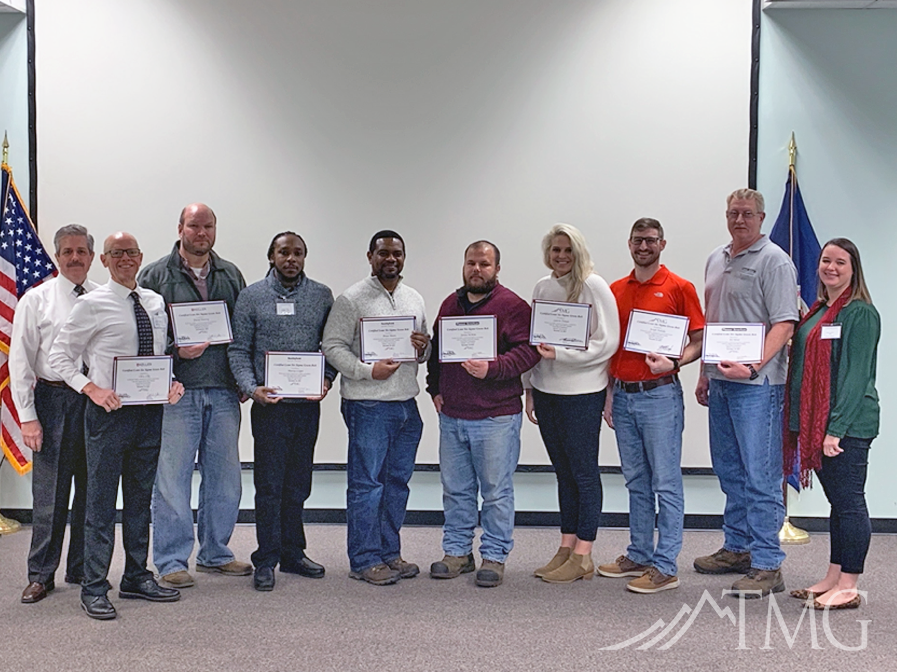 Pictured Above: Dale Davis (Master Black Belt Instructor), Chris Lilly (Keller America), David Murray (Keller America), Marcus Cooper (Smithfield Foods), Brian Moore (Smithfield Foods), Justin McKim (Plasser American), Lauren Temple (TMG), Joe Pedulla (TMG), Ed Hotel (Plasser American), Renee McNichol (Operations Officer). Not Pictured: Steven Harris (Plasser American)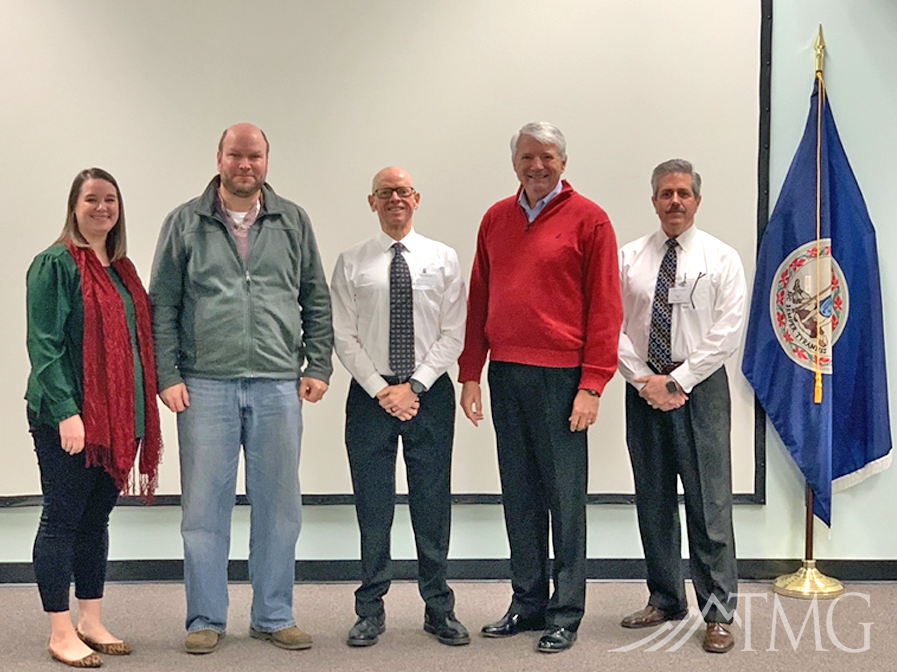 Keller America Team- Project Areas Analysis of Cost of Goods Sold and Production Scrap Reduction. Total Project Impact in Dollars= $762,811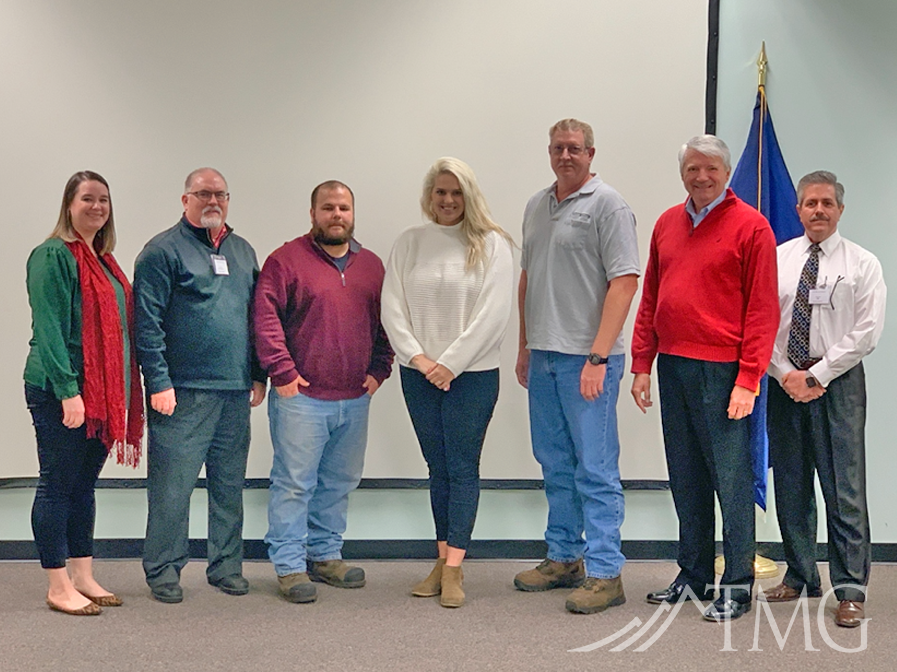 Plasser American Team- Project Areas Make/Buy Decision Study, Part Modification Process Improvement, Reduce Electrical Assembly Hours on Standard Machines, Talent Acquisition and Retention Cost Reduction. Total Project Impact in Dollars= $298,500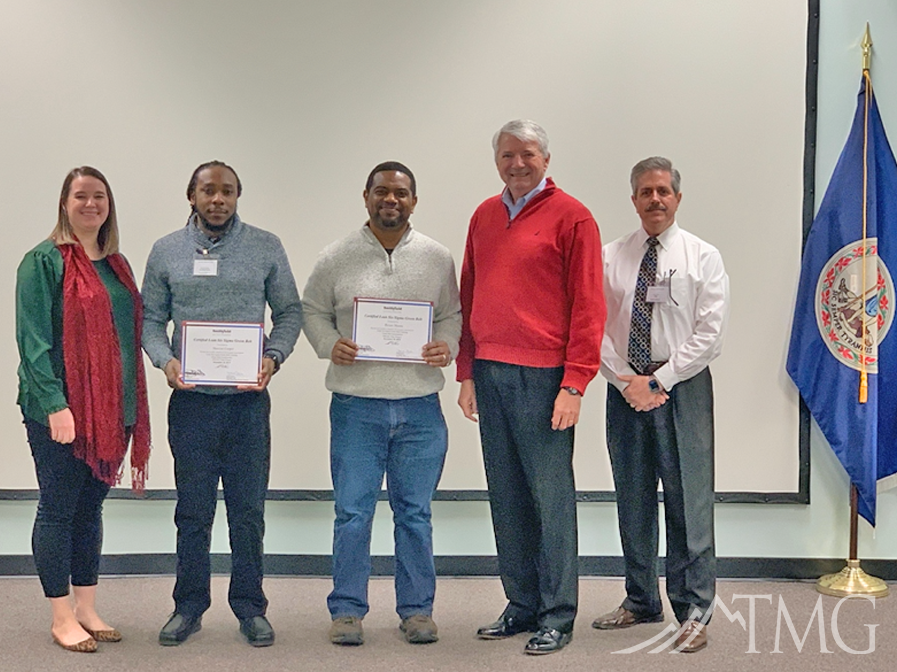 Smithfield Foods Team- Project Areas, Operation Throughput, Harvest Floor Turnover Improvement. Total Project Impact in Dollars= $423,800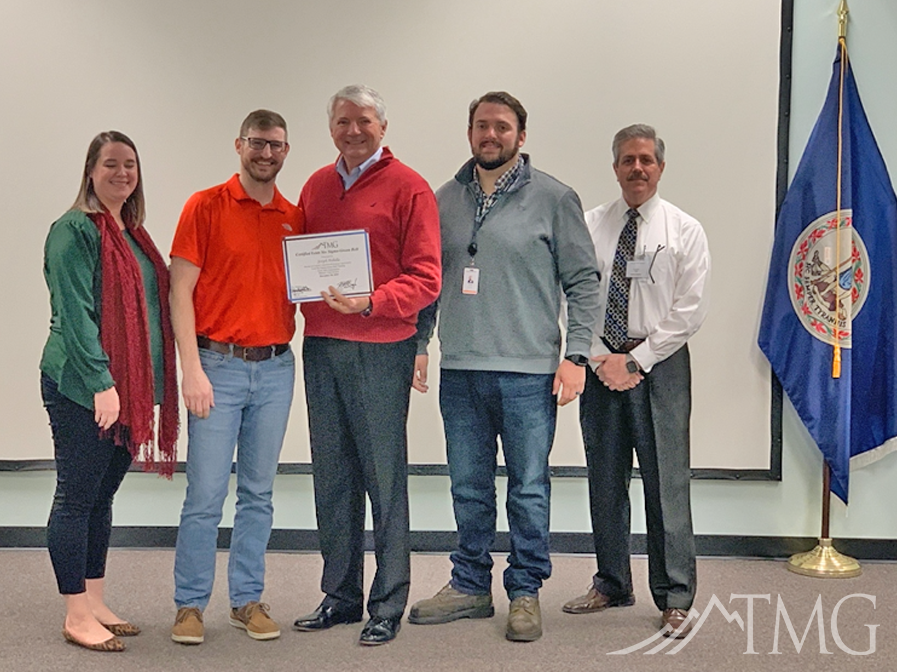 TMG (Arconic) Team- Project Areas, Reduction of Wall Gage Waste. Total Project Impact in Dollars= $102,000