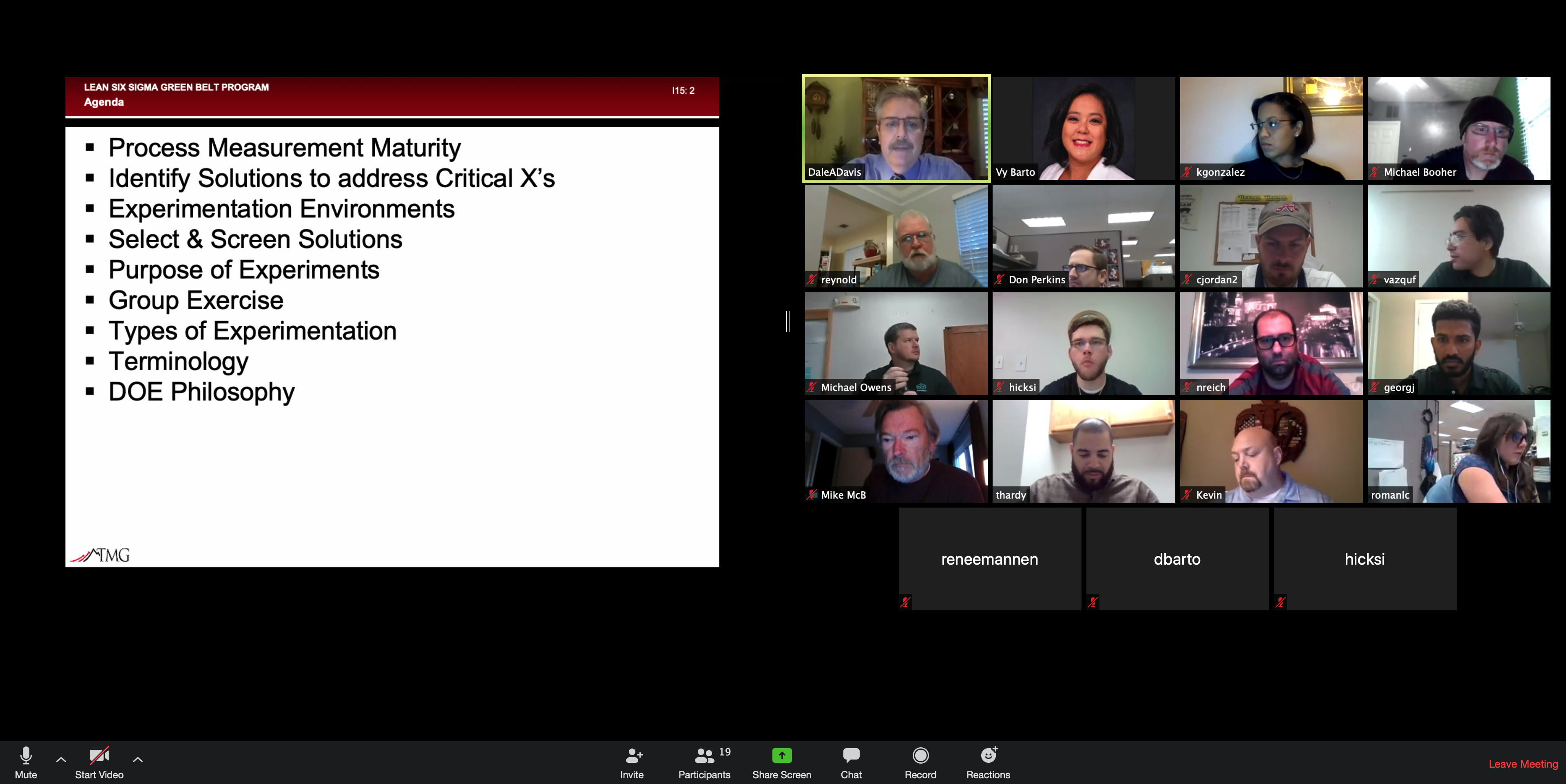 SPOTSYLVANIA, VA – April 1, 2020 – As we close out the first Quarter of 2020 and find ourselves amid a global pandemic, TMG is thankful to find ourselves positioned to weather this crisis, maintaining our support to partners across the country in a virtual environment, and sharpen our tools to come out stronger on the other side.  We are following the TMG Values to guide our actions during these uncertain times:
Do the Right Thing – We are following CDC guidelines for the safety of our partners and teammates.
It's All About the Relationship – We are helping our partners lead their teams through this crisis and providing virtual support.
Run a Good Business – Our team is dedicated to continuing to meet our partner's needs, and we are dedicated to meeting our teammate's needs through these tough economic times.
No Such Thing as Coincidence – There is opportunity in chaos, and we will take every advantage to emerge better and more capable of meeting whatever challenges lie ahead.
So far in 2020, the TMG Team has been deployed across the country, working hard to advance our partner's journey to Consistent Perfect Performance.  We are currently supporting partners in Southern California, Northern New York, Southeastern Virginia, and South Georgia in various capacities, including Leader Performance Improvement, Kaizen Support, Green Belt Operations Support, Lean & Six Sigma Training and Certification, Talent Acquisition and Retention, as well as the overall Team Performance Improvement Program, where we support both People and Continuous Process Improvement.
We re-scheduled our annual Building Leaders to Achieve Perfection Workshop and Planning session held at West Point, New York from March 18-20, 2020 to September 8-11, 2020, with Leader Teams attending from AO Smith, Howmet Aerospace, and Standard Aero.
In Q1/2020, we started new partnerships with Sumitomo Drive Technologies headquartered in Chesapeake, Virginia; KMETF in Jacksonville, Florida, and Seaspan in Vancouver, British Columbia.
We improved the TMG Team by onboarding two teammates at our January 2020, Kick-Off Summit. Kevin Barnett (Retired US Navy Chief) and Jack Bodner (Retired Howmet/Alcoa/Arconic Vice President of Operations), have both proven to be invaluable additions to the TMG Team.  We are in the process of onboarding Eli Vanner who retired from the US Air Force and spent three years at Newport News Shipbuilding engineering planning team before joining TMG in February.  We are engaged on all fronts and have a great team in place to support our Partners in an ever-changing and demanding business environment.
In response to the COVID-19 crisis, we have adopted new tools to help us maintain our world-class reputation as we move into a virtual environment.  As a prime example, our 757 Green Belt Training program was scheduled to have in-class training on Tuesday, March 24, just a week after the Governor of Virginia announced COVID-19 orders.  Dale Davis, Master Black Belt and Instructor, flawlessly delivered 8 hours of instruction using the virtual conferencing platform, Zoom, to connect virtually with 15 students from Hampton Roads, VA; Morristown, TN; and Savannah, GA.  Dale's professionalism, flexibility, and determination to provide quality instruction while engaging the class through virtual means embodies the TMG spirit of perseverance.  We will be continuing our current four Lean Six Sigma Green Belt Certification flights as the situation continues to unfold.
As we look forward to Q2 and whatever the "new normal" brings us, the TMG Team is set up for another successful year.  As we continue our long term partnership with the renamed Howmet Aerospace,  we will also begin work with our new Partners and Projects providing more chances to advance our "WHY" which is to give Leaders who WANT to Lead, The Courage to Lead High-Performance Teams!
Please stay safe and healthy during the challenging times we face today.