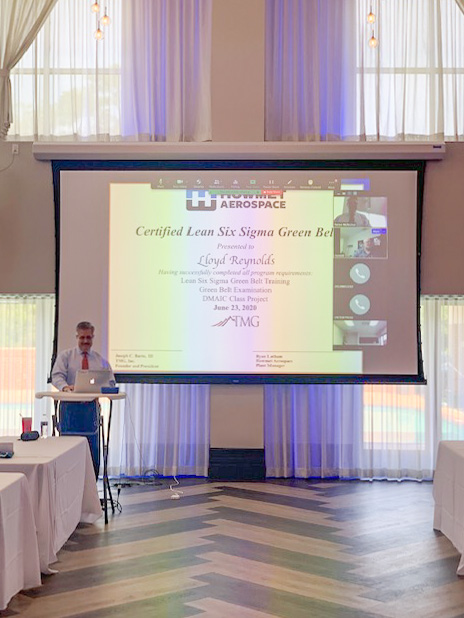 On Tuesday, June 23rd, 757 Green Belt's graduated from the "757 Lean Six Sigma Green Belt Training Program." Eleven Trainees from four local companies in the Tidewater Region of Virginia ("757") area participated in this training including Fairlead Integrated (Portsmouth, VA), Howmet Aerospace (Hampton, VA) (Morristown, TN) (Savannah GA), Sumitomo Drive Technologies (Chesapeake, VA) and TMG Inc. These companies invested in their people with confidence that the return on investment would far outweigh the cost of training. Their confidence paid off with over $1.6 Million in projected cost savings!
Total Projected Impact in Dollars $1,657,937
During the Global Pandemic TMG was able to successfully transition to a virtual training atmosphere to provide a training program unlike any other in the nation, providing much more than just three days of monthly classroom, and virtual instruction. Attendees are trained in the DMAIC Problem Solving Tool Set over six months (1 week/mo) while continuously applying that training to execute a legitimate Green Belt project with legitimate cost savings. This program was heavily enriched by the involvement of different industries and operations. TMG's 757 Green Belt class provides an unprecedented opportunity to combine Green Belt Training, Leader Development, Project Execution, and the Cross Pollination of Industry Best Practices.
If your company is interested in the next 757 Lean Six Sigma Green Belt Training in July of 2020 please contact Danny Barto at 757-272-6955.
Congratulations to Karla Gonzalez-Gay, Charles N. Reich, Don Perkins, Jerin George, Laura Roman-Gonzalez, Michael Booher, Isaac Hicks, Fernando Vasquez, Michael Owens, Lloyd Reynolds, and Kevin Barnett! All eleven candidates completed a 6 month long lean six sigma training, a DMAIC class project, and ALL passed their Green Belt examination.