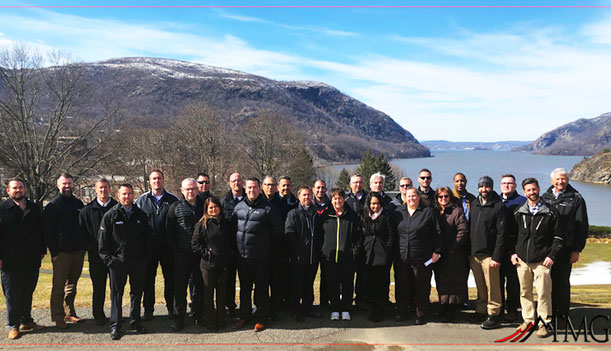 Twenty-four Senior Leaders from 5 different organizations around the country attended this 3-day Benchmarking and Planning where attendee companies where able to learn from each other and the West Point benchmark. Members of Centuri, Lisi, Habco, Electri-Cable Assemblies and Arconic were exposed to a wide array of leadership tools and character building exercises to help them gain the competitive edge in their industry by, not only improving their current leaders, but also how to identify and prepare the future leaders of their organizations. Nathan Fisher had a wonderful analysis of his time in West Point.
I viewed the week as a once-in-a-lifetime experience that any leader or person desirous of being a leader should attend. As Steve Spears mentioned, the biggest challenge is recidivism (yes, I had to look the word up to figure out what it meant)."
In line with that belief, taking concepts and approaches that are used and infusing them into the coursework made for a very powerful experience. Leaders have an intrinsic desire to continue their improvement and learning – there may not be a better way to test/stretch a leader than to put him/her into a competitive environment with a legacy that challenges individuals to be more.
Doing the "benchmarks" as we toured the area was brilliant. Tying back the classroom lessons to those methods made for a very practical application of the learning.
For me, one of the greatest "punches to the gut" in terms of testing my leadership was the question, "Who do I believe in more than that person believes in themselves?" Initially, I couldn't come up with an answer. Ultimately, I have maintained that question on a blue slip to remind me of the intentionality I must bring as a leader with the team I have been entrusted.
Nathan's insight to what he gained from this event is exactly the goal TMG strives to achieve. The team at TMG was honored to have such a response. Nathan is a true example of TMG's philosophy "I am a Leader. My Team Plays to Win!"
Joe Barto, Founder and President of TMG, Inc. led this 3-day leadership event. For the past 15 Years, TMG has helped translate the Military Leadership lessons and best practices to civilian industry by getting back to the basics of leadership; building Trust, setting Expectations, Team Engagement, and Training and Development. This event highlighted these best practices. "The greatest form of respect we can give our people are Leaders who know what they're doing," says Joe Barto, "This isn't rocket science, you don't need a PhD to figure this out. It is however, brutally hard work. Everyday a leader has to wake up, look themselves in the mirror and renew their commitment to being a leader and everything that comes with it."
The final day featured Steve Spear, author of The High Velocity Edge and senior lecturer at MIT's Sloan School of Management, who treated the group to a presentation on "Competing at Speed in a Fast-Moving World". The basic message Steve imparted on the group was that the difference between success and failure is the level of preparation. That level of preparation depends on the rate of which the organization is capable of learning. The higher the rate of learning the more graceful the organization becomes, resulting in increased performance. The lower the rate of learning the more awkwardness you will be able to see in an organization thus creating decreases in performance.