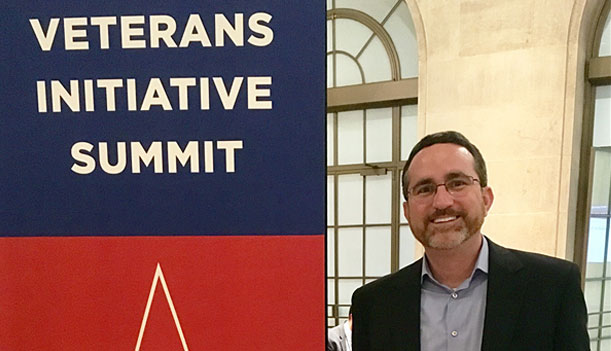 Washington, D.C., November 29, 2017
Kevin Jonas, Program Manager for TMG, joined Frank Finelli, Managing Director of The Carlyle Group, and Jason Cummings, Vice President of Enterprise Solution at Zero Chaos, to discuss the current state of U. S. Labor Market Dynamics with a diverse group of Human Resources and Talent Acquisition professionals from over twenty Carlyle portfolio companies.  Attendees came to Washington, D.C. from around to country for the 2017 Veterans Initiative Summit hosted by The Carlyle Group and Blackstone.
The breakout session began with Frank Finelli's overview of labor market trends that have been making it increasingly difficult to identify and attract all types of talent over the past decade.  In 2016, 40% of employers reported difficulty in filling all positions.  In addition to the challenges of finding talent in such a tight labor market, employers are becoming increasingly aware of high employee expectations regarding engagement.  51% of U.S. employees are actively looking for a new job or watching for job openings.  35% of employees have changed jobs within the last three years (Gallup's State of the American Workplace 2017)  Adding to the complexity of the issue; layoffs and discharges have remained relatively static over the past 10 years, while "quits" have more than doubled since 2011 and are at all-time highs according to the Bureau of Labor Statistics in November 2017.
After Frank set the stage, Jason Cummings of Zero Chaos outlined his organization's Managed Services Program in the areas of vendor management, screening solutions, and staff augmentation.  He also led the group in a discussion of Veteran employees transitioning into the workforce.
Kevin Jonas, Program Manager with TMG, finished the session by speaking to the group about the importance of developing a comprehensive Talent & Leadership strategy to build high performing teams.  "It's not enough to find and hire qualified talent; the real metric for growing a high performance team is retention.  Delivering your new teammates to an engaged, well trained first line leader is the key to early buy-in and a leading indicator of strong retention."  Kevin also presented attendees with practical methods that hiring managers can employ to substantively value veterans, modify their hiring process for transitioning veterans, and educate hiring decision makers to remove fear generators that can deter veteran hiring.
For more information about TMG, Inc. and our award winning programs, visit www.tmgva.com.