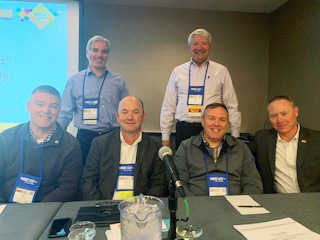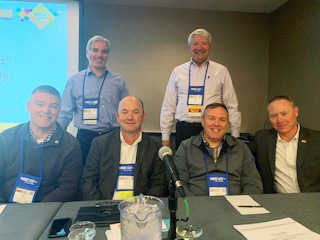 Joe Barto, AME Southeast Region Director was proud to facilitate Leading the Lean Journey Workshop at the Association of  Manufacturing Excellence Annual International Conference in Chicago. Joe facilitated lessons learned and best practices from 5 other experienced Lean Leaders, Paul Murphy (VP of Operations, Electri-Cable Assemblies), Ben Tanner (Senior Director of Continuous Improvement, TreeHouse Foods), Rich Fitzgerald (Chief Operating Officer, SMTC Corporation), Wayne Pitchford (VP of Operations, Neptune Technology Group) and Sid Dickerson (VP of Operational Excellence, Development and Deployment, Ingersoll Rand).
115 attendees were empowered by "1 on 1" round table discussions on how high-performance organizations realize they just cannot work harder to produce continuous improving results. These seasoned Lean Leaders discussed how they have and are creating an environment where our people have confidence that if they work hard then the leadership has a plan to win. It is the core of trust and respect for people. Easy to say—hard to do.
Furthering the AME Mission:  Share–Learn–Grow.