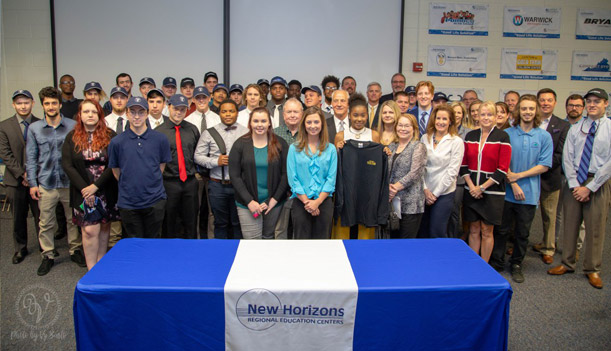 Hampton, Virginia, May 4, 2018 – On Tuesday, 36 Seniors from the New Horizons Regional Education Centers on the Peninsula took part in a signing day with 9 local employers. It's a twist to get more young people into technical trades.
9 Local Employers begin to load their long-term Talent Acquisition and Retention Pipelines with amazing young people from the New Horizons Advance Technical Careers (ATC) Academy to help meet their business goals for the long run. "These incredible Employers agreed to join the ATC "The Good Life Solution – Transition to Employment program in the fall of 2017 on the principle that they owned the hiring decision. With their desire to recruit and hire the best young talent they could find, these companies now believe the Advanced Technical Careers Academy (Automotive, Construction and Manufacturing) is one of their best sources for Talent", says Joe Johnson the NHREC Executive Director.
The New Horizons/TMG Team is dedicated to reenergizing the Virginia Peninsula economy by providing a ready to learn entry level workforce pipeline to local employers in the automobile, construction, and manufacturing industry. TMG is contracted by New Horizons as the "Business Liaison" tasked with connecting the dots between employers and High School Seniors who plan on entering the workforce after graduation.
According to Joe Barto, President of TMG, the Good Life Solution Program Manager, "My company has been working with employers across the country to improve their Team's Business Performance. The most successful companies are those who do not fall victim to the 'you just cannot find good people these days' but recognize they have to do something different to attract and retain the right talent. The employers who accept that they "own" this critical challenge are winning and winning BIG. This is not the end but the beginning for these employers who know it is not how many they hire but how many they keep as engaged productive employees for many years to come."
"We want talent for life at Newport News Shipbuilding and the New Horizons program is a great way to help us meet this goal." said Matt Needy, VP of Operations at Newport News Shipbuilding. "These new shipbuilders will contribute to our amazing mission of building great Navy ships while becoming productive members of our community."
ATC "The Good Life Solution" is a Business-Driven Academy with a focus on Employer Talent Acquisition and Retention. Having TMG, Inc. contracted as a dedicated program management resource for New Horizons has been integral in the program's success in its pilot year.
According to Danny Barto, Good Life Solution Deputy Program Manager, "We are not just sitting in a room talking about what could be done to improve the local workforce. We are purposely and effectively making a difference for our young people and our local employers. This program is going grow and grow fast."
Not only will these grads earn $12 to $20 an hour, companies will continue to train and provide higher education.
Additional Media Links:
13 News Clip: https://www.13newsnow.com/article/news/education/new-horizons-puts-a-twist-on-signing-day/291-547625432
Huntington Ingalls: http://nns.huntingtoningalls.com/videos/new-horizons-signing-day/
Photos from the event: http://bit.ly/GLSPhotos